About Leftovers Austin Estate Sales
Leftovers Austin Estate Sales is simply the best, most trusted full-service estate sale company in Austin, Texas! We are family-owned, commission-only, insured and have been serving Central Texas for nine consecutive years, conducting an average of two estate sales per month. We strive to set the bar for innovative, premium service; and as a result, we have more than 7,000+ regular customers who attend our sales, we have access to another 15,000 customers through several subscription services of estate sale attendees, and we have more than 5,200 Facebook followers.
Our team has more than 30 years of combined hands-on estate sale experience, and we also benefit from expert consultants in a variety of fields who assist us in selling your items at the very highest price possible. We not only stage and host your estate sale with integrity and professionalism, we provide marketing and advertising beforehand and a fast cleanup service afterward that is unmatched in the industry.
Advertising & Marketing
We understand that no matter how effectively we stage and price your estate sale, if we don't draw enough customers to the sale, it won't be successful. That's why Leftovers Austin provides a proven advertising and marketing plan for all of our clients. (We are happy to share this information with you on your complimentary first visit.) We have 7,000+ regular customers who receive e-mail announcements prior to each estate sale, and we also have over 5,600 followers on our Facebook page with whom we interact daily! Hundreds attend each and every sale because they know we will hold a clean, organized event with quality items and courteous service.
Our Promise To Our Clients
We promise to treat you and your property with the utmost respect, and in return we ask that you put your trust in us to do the best possible job for you. If we treat each other with trust and respect, the estate sale will be efficient, lots of fun and, most importantly, profitable for us both!
Our Promise To Our Customers
At Leftovers Austin, we don't think estate sales should be stuffy events. In fact, we like to think of ourselves as a "user-friendly" estate sale company, and always strive to be accessible and friendly to our customers and clients alike. We love what we do, and it shows! When you visit one of our estate sales, a Leftovers Austin representative is always on hand to answer any questions customers might have.
Leftovers Austin Estate Sales Team
Owners of Leftovers Austin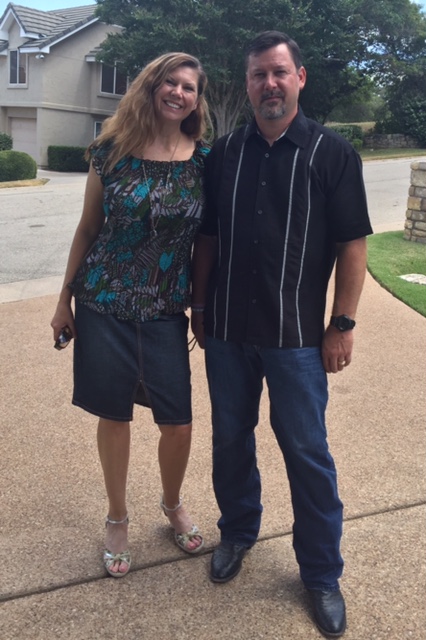 Kevin Marchak
Kevin grew up playing sports in a small oil and ranching community in Texas. While growing up he spent his summers working in the oilfield and on his grandpa's ranch before settling down after college in the Austin area to raise a family.
Kevin has over 20 years of experience in the sales and service industry with many years of management experience. He says: 'I wanted a business that could involve the whole family and that I actually enjoyed. My wife of more than 18 years and our teenage son are an integral part of the business. After having the opportunity to work on estate sales the lightbulb went off and I knew this is what I wanted to do.'

Mary Marchak
As a wife and mother, Mary knows the value of family and strives hard to make every day the best day possible. She recently lost her mother, and as executor of her mother's estate, knows firsthand how difficult it can be to make decisions concerning the properties of a loved one. She brings that compassion and respect to every aspect of working in the Estate Sale business and appreciates having the ability to help other people through such a difficult time in their lives.